Tours of Chiang Rai also known around here as the 'The Temple Tours'
We realize visitors and travelers may have limited time in Chiang Rai and want to see and do as much as possible. As we are also a registered tour company, we offer full day programs that combine time at the sanctuary with seeing some of Chiang Rai's best attractions. 
Our focus is on ethical activities that benefit the local community and promote responsible tourism rather than exploitation.
Giving back to the animals and people that surround us are at the core of our ethos.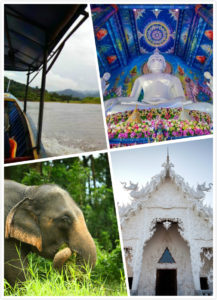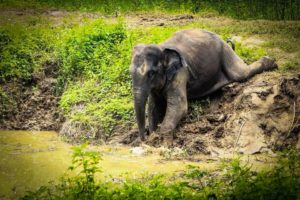 Temples Tour (a self-guided tour with an English speaking driver) + Elephant Lovers
2500 THB, all inclusive of half day at the sanctuary, food, transportation, and temple entrance fees/donations (2 pax minimum)
We currently have a full day tour option combining a half-day tour of 3 temples, a ride on a long tail boat along the Kok river and the Elephants Lovers half day program with lunch at the sanctuary.  There's a visit to the stunning Blue Temple, a long-tail boat ride on the Kok river to the ancient Buddha cave and then on to the world famous White Temple.  
To keep the day cost efficient, we have designed it as a "self- guiding tour" as the temples don't really require a tour guide, but they'll be an English speaking driver to assist you and everyone else in your group.   If you are a solo-travel and would like to join the temple tour let us know some possible dates so we can try and fit you in with a group.
The day starts with pick from your accommodation at about 8.20 and get you back about 5pm. Although often there's temples in the morning and sanctuary in the afternoon, we'll sometimes have the morning at the sanctuary to optimize group numbers and the visitors' experience.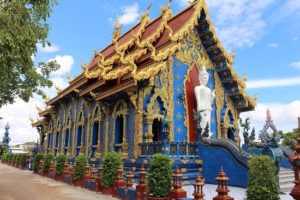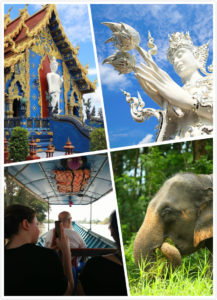 Guided ethical forest walking trek to remote hill tribe villages & tea fields + Elephant Express
2500 THB all inclusive of fantastic local guide, open fire bamboo barbeque forest lunch, transportation and 2 hours at the sanctuary (2 pax minimum)
This is a great full day option for those with plenty of energy and a reasonable fitness level. The adventure starts with hotel pick-up about 8am and am incredible drive through amazing green hills and river valleys.  There's about 2 ½ hours trekking in the morning through beautiful forest before a delicious open fire lunch. The forest trek is on mostly even ground but it's quite steep in parts.
After lunch there's another 90 minutes walking to hill tribe villages and tea fields.  Visitors are then transported to the sanctuary arriving about 2.30pm and can shower if they like.  The elephant express program starts at 3pm and finishes with feeding the elephants after a tour of the sanctuary, Guests depart the sanctuary at 4.30 getting back around 5pm.
If you are heading to Chiang Rai please drop us a line at bookings@elephantvalleythailand to see how we can make your stay even more awesome!